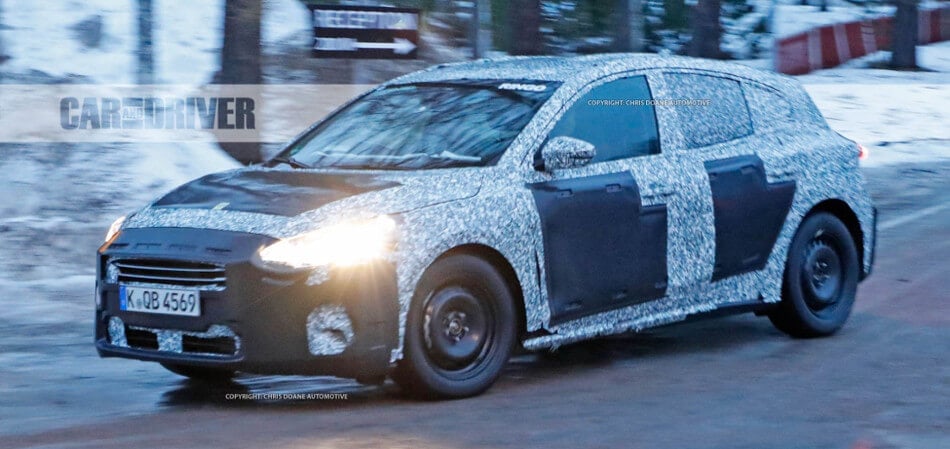 caranddriver.com
New Ford Focus spy shots have emerged, and what we're seeing is:
An updated exterior with several ultra-modern elements.
An interior that should offer increased passenger space.
A range of powertrains that could include an available diesel engine.
Sounds interesting, right? Let's take a closer look at just what's making the 2019 Ford Focus so hotly anticipated around Iosco County.
Style
As ever, spy shots are most revealing in terms of exterior appearance. Despite minimal coverings, you can still learn plenty about how the 2019 Ford Focus is going to look. Highlights include:
A cleaner surface, with fewer creases across the body.
A new grille that follows the Fiesta's design of having the widest portion closer to the top.
A new Daytime Running Light design.
Overall, it's a sportier Ford Focus than we've seen before, and we can't wait to see it gracing our showroom.
Interior
We haven't yet had a peek inside the 2019 Ford Focus, but we can still make some educated guesses as to what we'll find when we do.
Exterior dimensions have certainly increased, so the cabin should be a little larger than that of previous models. Where will Ford be spending those added inches? Our guess is that they might bump up the legroom for rear passengers, which would put its comfort level closer to the Ford Fusion. Overall cabin quality is expected to improve, though Ford is keeping details of the specifics close to its chest.
Power
The Ford Focus has always been defined as one of the most potent hatchbacks on the market, so power is going to be a key concern for any new model. Options with the 2019 Ford Focus may include:
1.5L three-cylinder EcoBoost turbocharged gasoline engine with either a manual or dual-clutch transmission.
New 1.5L turbodiesel for enhanced low-end torque and improved efficiency ratings.
In line with the current Focus, we can likely expect an all-electric version, plus high-performance ST and RS models.
Keep in Touch to Learn More About the 2019 Ford Focus
We expect the 2019 Ford Focus to be officially unveiled in the near future. Until then, contact us today to arrange a test drive around Tawas City or explore financing options.