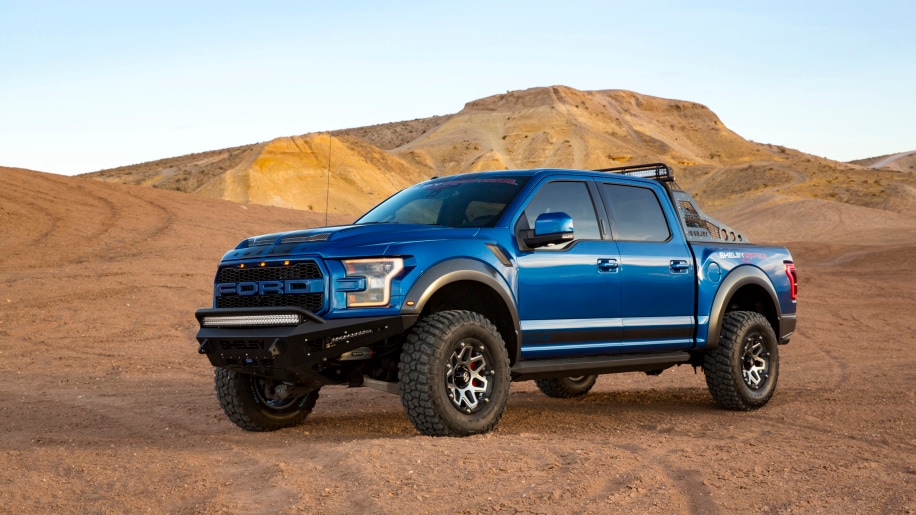 Image from Autoblog.com
The Shelby Baja edition of the Ford F-150 Raptor includes:
525 hp and 610 lb-ft of torque
Custom front and rear bumpers
Performance aluminum intercooler
High-flow air filter with oversize tube
New cold air intake
One-piece heat shield
ECU tune
The 2018 Ford F-150 Raptor is already a beast. With 450 hp and 510 lb-ft of torque, it allows for extraordinary capability, while FOX Racing Shox, a Torque-On-Demand transfer case, a six-mode Terrain Management System, and a unique FORD block-letter grille let it venture where others fear to tread. But for some people — even that's not good enough. Enter the 2018 Shelby Baja F-150 Raptor, which is ready to take Iosco County by storm.
Power
This is a Shelby, so drivers expect audacious power. No room for disappointment here – the 2018 Shelby Baja F-150 Raptor adjusts the familiar 3.5L twin-turbo EcoBoost V6 with performance aluminum intercooler, high flow air filter with oversize tube, new cold-air intake, one-piece heat shield, and a ECU tune. All told, it makes up to an ungodly 525 hp and 610 lb-ft of torque.
If that high outlet seems tempting at first, keep in mind that the current Ford F-150 has dropped hundreds of pounds compared to the last Shelby Baja Raptor and Baja 700.
Performance
Shelby doesn't build around power along — the 2018 Shelby Baja F-150 Raptor also brings a range of performance upgrades. More robust 3-inch coilover internal bypass adjustable reservoir Fox Shox at the front and 3-inch external bypass adjustable reservoir Fox Shox at the rear are noticeable upgrades.
Further additions include:
35-inch BFGoodrich KM2
Custom Front and Rear Bumpers with Several Tow Points
New Hood with Dual Intakes and Dual Stripes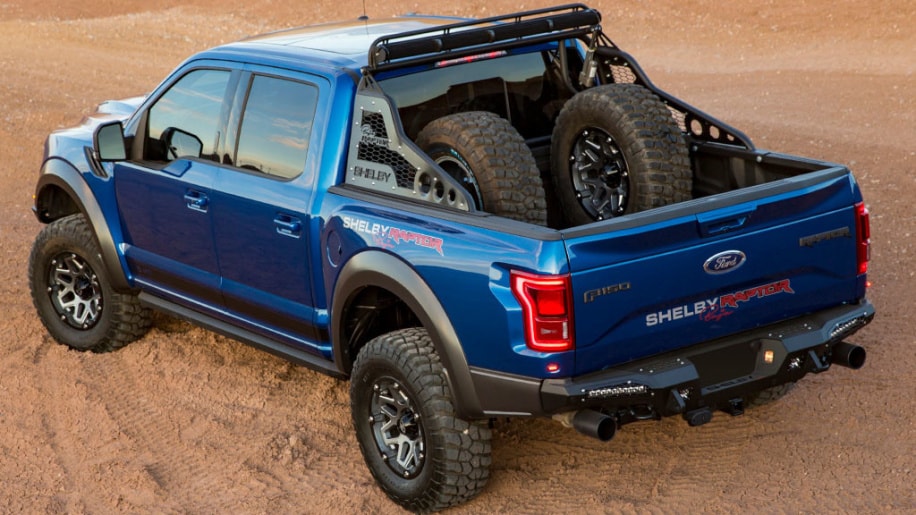 Image from Autoblog.com
Design
The unique flat black front bumper incorporates a 40-inch curved LED light bar, while the rear flat back bumper offers two 10-inch LED driving lights. Shelby Raptor Striping and badging marks the body, and power steps with rock sliders and lights have been added.
Once inside, you'll find new Shelby leather across the seats for added panache, plus carbon-fiber accents, Shelby Raptor floor mats and badging, and a serialized engine plate and dash plaque. The outside world is filtered through deeply tinted windows.
Find Out More About the 2018 Ford F-150 by Visiting Dean Arbour Ford of Tawas
It's stunning to see what a company like Shelby can do when allowed to rework a truly revolutionary truck like the new F-150. If you'd like to take one home yourself, simply contact us today to arrange a test drive or use our online tool to apply for credit. You can also just visit our dealership at 55 W M-55 in Tawas City.